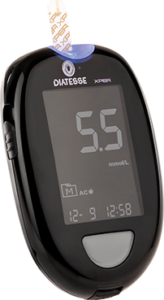 Diatesse XPER has, among other things, the following unique features
New technology: extremely accurate
Haematocrit range 0-70 L/L
Bluetooth® and USB data link
Strip ejection function
Automatic recognition of monitoring fluid
Enzyme used is GDH-FAD; therefore no oxygen (O2) interference
Accuracy of ± 10% (current standard is 15%)
Optional ketone measurement
Diatesse XPER incorporates advanced technologies by integrating various disciplines during the development process:
Biosensor technology
Biomedical sciences
Materials science
These technologies have contributed to the evolution in blood glucose monitoring, namely: extremely accurate measurement results.
The Diatesse XPER blood glucose monitoring system is suitable for several target groups:
Diabetes patients who do not need to monitor their glucose frequently. The test strips have a much longer shelf life.
Diabetes patients who do monitor frequently. The advanced system gives an accurate result every time.
It is also suitable for neonatal and dialysis patients (haematocrit range 0-70 L/L).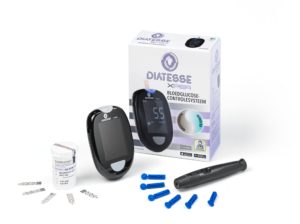 The starter package consists of:
Meter
Lancing device
User manual
Storage bag
Test strips 10 pieces
Lancets 10 pieces
Two 1.5V AAA batteries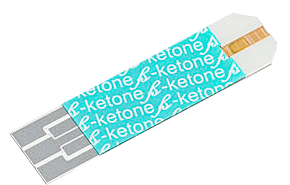 Ketone measurement
Our body consumes more sugars when we exert ourselves. Those may also be fats.
When fats are consumed, ketones are produced. In large amounts, these ketones may acidify our blood. An elevated ketone level is known as 'ketosis'. A sharply elevated ketone level, including the acidification, is called a 'ketoacidosis'.
Since ketoacidosis, in combination with diabetes, can cause a diabetic coma, measuring ketones in special circumstances is strongly advised. Particularly in case of illness and/or fever and vomiting. You must also consult your health care professional!
Software
Software that makes diabetes management clear and simple is available for the Diatesse XPER blood glucose monitoring system.
User manual + instruction animations for the Diatesse XPER are found on the Support page.