By using gold as a conductive material, an extremely high level of stability is achieved. The Diatesse XPER test strip also has 1 general suction opening that runs into 2 separate internal suction openings and 5 electrodes. The 5th electrode checks the (potentially) insufficient blood volume or air bubbles.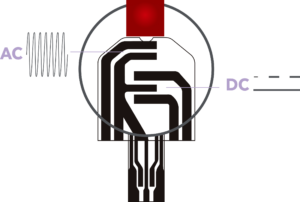 With a sample size of only 0.5 µl, Diatesse XPER gives you the result of your test within 5 seconds. The De Diatesse XPER test strip has an ultimate and well thought-out technology with only one goal: to guarantee you the most reliable measurement.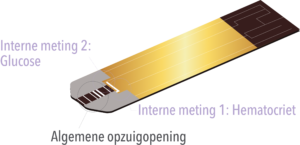 The general suction opening distributes your blood sample over two internal suction openings. The first internal suction opening of the Diatesse XPER test strip measures your haematocrit with a range of 0-70 L/L. The second internal suction opening measures your blood glucose with a range of 0.6 – 44.4 mmol/L. During the production process, a highly accurate and specially developed laser technology is used to cut the electrodes into the correct shape.
User manual
You will find the Diatesse XPER user manual on the Support page.